Bad Omens drops off Senses Fail and The Amity Affliction tour, then the world ends
"You would think that two bands that have been in operation for over 15 years would not only react differently to a young and growing band voicing their concerns leading up to perhaps their biggest tour, but also wouldn't tweet like 13-year-old girls whose crushes haven't texted them back in a few days."
We are all very aware of the relevancy that rap beefs lends to rappers when they call out another rapper. We saw it earlier in the summer when Pusha T called out Drake, was relevant for a second and then disappeared into irrelevancy again; Machine Gun Kelly called out Eminem and then disappeared into irrelevancy again. It's a known occurrence that has gone back DECADES in the hip-hop genre.
Now, I know that not everyone can get along, and it's very easy for performers to develop an ego as big, if not bigger, than their actual level of fame; especially when it comes to rappers.
But this time it wasn't rappers caught up in the he said-he said pointlessness of a feud. Nope, this time it started with perennial shit-starter Buddy Nielsen giving an update to the Misery Will Find You Tour, which was slated to feature Senses Fail, The Amity Affliction, Bad Omens, and Belmont, only one day after it was announced.
MISERY WILL FIND YOU TOUR UPDATE pic.twitter.com/nlgtoVNhi7

— Senses Fail (@SensesFail) November 8, 2018

The news wasn't made when Bad Omens dropped out of their commitment to provide support on the tour, but rather when Nielsen decided to disclose the behind-the-scenes reason as to why the California band would not be heading out on the prolific 27 date tour.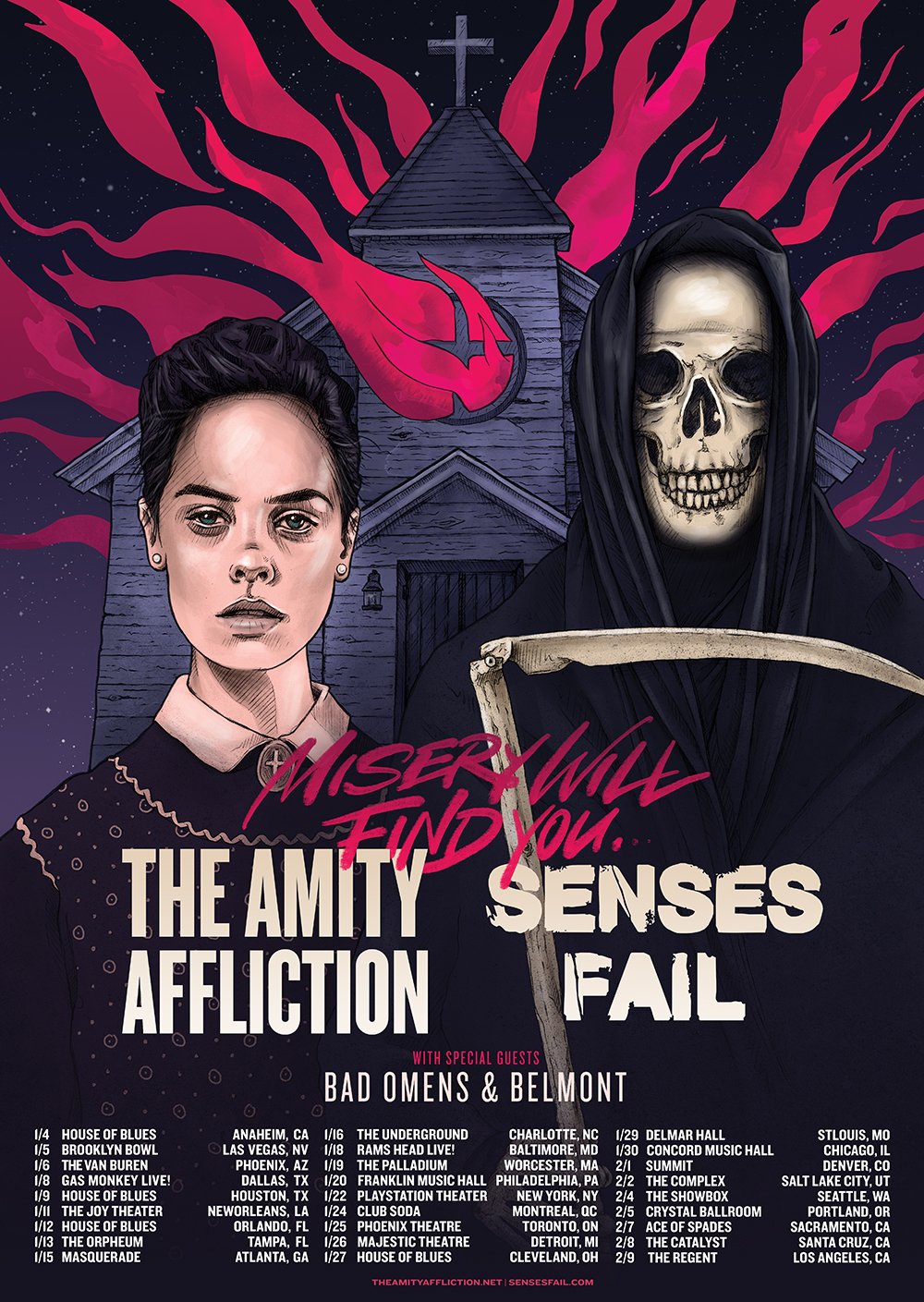 Bands drop from tours all of the time. We very rarely get the privilege of insight into the reasons as to why our favorite bands are no longer heading out on the road. When I first heard about the news, I was not prepared for the reason to be an issue with a young bands name being in small font on the tour poster.
Mind you, the graphics on this tour poster is absolutely incredible and is drawn by the ultra-talented illustrator Chris DiBenedetto, I'm sure that the size of a bands name on a poster IS actually a valid concern, BUT you're going on tour with SENSES FAIL and THE AMITY AFFLICTION. What more do you really need when it comes to marketing.
This is the same Bad Omens who opened for We Came As Romans and Bullet For My Valentine over the last few months. At the Detroit show for that tour, there were people SITTING DOWN on the FLOOR while Bad Omens played. I found their passion on stage to be lackluster, and their music to be predictable and dull.
I'm not saying that Bad Omens creates bad music, or are bad musicians; but if what Nielsen says is true, they're definitely not at the level to be complaining, let alone dropping off of tours, because their name is a smaller font.
If you're a logically-thinking adult, you're probably asking yourself about the other side of the story, because you know, there is always two sides to a story.
Having been the recipient of the first attack via the Senses Fail Twitter account, Bad Omens were forced to respond in order to avoid looking like petty teenagers throwing a temper tantrum.
Well then…you can probably make your own decision as to who is right here, you can take your side on this one, but I mean, Bad Omen's statement seems very legitimate and gives the detailed reasons as to why Bad Omens decided to leave the tour, and it really looks like it had very little to do with text size. In a perfect bit of marketing, the band even released a t-shirt with their band name in very small lettering on the front. Ha.
One thing I am very disappointed about is The Amity Affliction's part in this entire embarrassingly immature debacle. For full transparency, I will say that The Amity Affliction is one of my favorite bands on the planet; but their public reaction to this is childish. Granted, the bands Twitter hasn't said much aside from the below graphic, but vocalist Joel Birch has been tweeting like a certain President of the United States, for an issue that seemingly didn't need his opinion.
Bad Omens' originally submitted ad-mat for the @amityaffliction / @SensesFail tour just leaked, and frankly, I don't see what the problem is? pic.twitter.com/r01wsQ1lmz

— Landon 🦃 (@igotdefeverman) November 8, 2018
You would think that two bands that have been in operation for over 15 years would not only react differently to a young and growing band (Bad Omens has only been a band for three years) voicing their concerns leading up to perhaps their biggest tour, but also wouldn't tweet like 13-year-old girls whose crushes haven't texted them back in a few days.
Albeit entertaining, the entire situation is slightly embarrassing. Anyway, can't wait to see The Amity Affliction at the Majestic Theatre on January 26th.